Kolín Trip June 2022
Kolín for the 80th anniversary of Deportations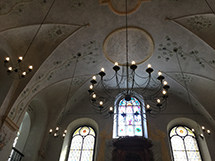 Join Rabbi Dr Andrew and Sharon Goldstein in the Czech Republic to mark the 80th anniversary of Deportations of the Jews of Kolín.  The full programme is as follows but individuals should make their own arrangements and decide on how long they would like to stay.
Wednesday 15 June
Fly to Prague and visit Ec Chajim the new Liberal community led by Rabbi David Maxa
Thursday 16 June
Morning in Prague then by train to Kolín (Hotel Theresia)
Friday 17 June
Commemoration of 80th Anniversary of Deportations
10am Welcome by Mayor in Kolín Town Hall
11am Meeting in the Kolín Synagogue to view the new exhibition about survivor Tommy Glaser
12 midday Walk to the school where all Jews had to gather and were incarcerated for three days before deportation. Ten years ago, our community was in Kolín and unveiled a plaque at this site commemorating the school children who were deported. Afterwards, we will walk to the minor rail station from where the Jews of Kolín and other local towns like Podebrady were transported to Terezín.
1:15pm Return to the town centre for lunch and visit the ghetto and other Jewish sites
6pm Friday night service in the Kolín Synagogue with members of the Ec Chajim congregation and Rabbi David Maxa
Saturday 18 June
Travel by coach to nearby Podebrady to dedicate a memorial at the Luxor home, a Jewish Care home for elderly survivors of the Shoah. After lunch visit the castle and other sites in this spa town.
Sunday 19 June
Return home or back to Prague for more sightseeing.
For more information or to express an interest contact Rabbi Andrew Goldstein via the Synagogue Office.